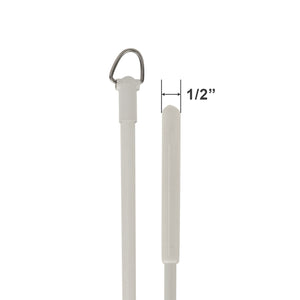 Bali and Graber White Fiberglass Wand for Vertical Blinds - 33 inches
Product ID: 3015 SKU: W-23-FIBER-033
This white fiberglass wand is used for vertical blinds and draperies.
Comes with an attached metal D ring that can be opened to attach it to the blinds. Also comes with an attached vinyl rubber hand grip.
Fiberglass is the perfect material for wands on window coverings that slide back in forth. It remains rigid and won't bow.
33 inches long and 5/16" diameter.
Sold individually.
Graber part # 66-7212-02, 02674-00, & 97-0163-00.
Only available for shipping within the United States.
| | |
| --- | --- |
| Product ID | 3015 |
| SKU | W-23-FIBER-033 |
| Color | White |
| Sold By | Piece |
| Material | Fiberglass, metal and rubber. |
| What's Included | One wand with a metal ring tip and rubber handle. |
| Blind Type | Drapery, Vertical Blind |
| Brand | Used by Multiple Brands |
| Product Line | G71, G85, G98 |
| Country of Manufacture | Unknown |
| Weight (Pounds) | 0.1500 |
| Processing Time | 1 Business Day |
| Shipping Origin | Colorado Springs, CO |
| Eligible for Free Shipping on Orders Over $100 | Yes |
| Warranty Information | 90 Days |
| Eligible for a Return | Yes |
WARNING: