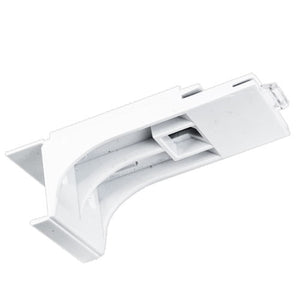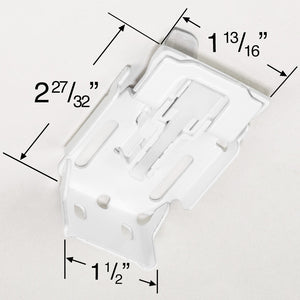 Hunter Douglas Silhouette Shade Mounting Bracket - Old Style A
Product ID: 7079-A SKU: BRACKET-SILH-02
This is one of the versions of the Silhouette shade mounting bracket that Hunter Douglas used prior to 1998. It's no longer manufactured and is not available for purchase.
There is a new updated metal bracket that will fit all Hunter Douglas Silhouette shades no matter when they were manufactured.
The updated bracket is a direct replacement for the original bracket. The measurements and look of the updated bracket vary from the original, but the new bracket directly replaces the original bracket.
Note: It is best to replace all of the brackets on a single shade to make mounting it easier.
If you'd like to purchase the most current metal version of this bracket, click here.
Sold individually.
Hunter Douglas part numbers 4150241000, Kit 9125, and Kit 9126.
| | |
| --- | --- |
| Product ID | 7079-A |
| SKU | |
| Color | White |
| Sold By | Piece |
| Material | Plastic |
| What's Included | One mounting bracket. |
| Where Can Brackets Be Mounted? | Ceiling Mount, Inside Mount, Outside Mount |
| Blind Type | Sheer Shade |
| Brand | Hunter Douglas |
| Product Line | Silhouette (HD) |
| Country of Manufacture | Unknown |
| Weight (Pounds) | 0.0500 |
| Processing Time | 1 Business Day |
| Shipping Origin | Colorado Springs, CO |
| Eligible for Free Shipping on Orders Over $100 | Yes |
| Warranty Information | 90 Days |
| Eligible for a Return | Yes |
WARNING: