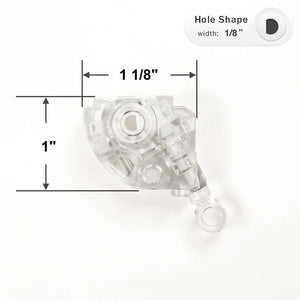 Hampton Bay & Designer's Choice Tilt Mechanism for Cordless 1" Mini Blinds
Product ID: 7311 SKU: TILTER-096
Mini blind tilter for Champion, Hampton Bay, and Designer's Choice brand cordless mini blinds that have a 1" x 1" headrail with a 1/8" D-shaped rod inside the headrail.
Clear plastic. 
Sold individually.
Manufacturer part # 240609 & 309979397.
If you need just the stem for this tilt mechanism, click here.
| | |
| --- | --- |
| Product ID | 7311 |
| SKU | TILTER-096 |
| Color | White |
| Sold By | Piece |
| Material | Metal, Plastic |
| What's Included | One wand-driven tilt mechanism. |
| Headrail Size | 1 1/2" x 2 1/4" |
| Tilt Rod Shape | D |
| Tilt Rod Size | 1/8" |
| Size of the Punch in the Head Rail | 5/8" |
| Shape of the Punch in the Head Rail | Rectangular |
| How is Tilt Mechanism Operated? | Wand |
| Headrail Size | 1 1/2" x 2 1/4" |
| How Does Wand Attach to Tilt Mechanism? | Hook/Sleeve |
| Blind Type | Mini Blind |
| Brand | Used by Multiple Brands |
| Product Line | Used by Multiple Product Lines |
| Country of Manufacture | China |
| Weight (Pounds) | 0.0200 |
| Processing Time | 1 Business Day |
| Shipping Origin | Colorado Springs, CO |
| Eligible for Free Shipping on Orders Over $100 | Yes |
| Warranty Information | 90 Days |
| Eligible for a Return | Yes |
WARNING: