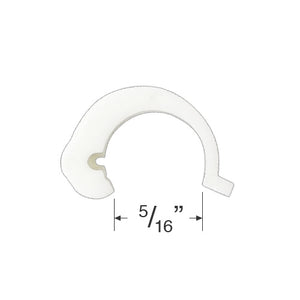 Easy Glide Cord Retainer Clip for Cord Loop Operated Cellular Honeycomb & Roman Shades
Product ID: 5001 SKU: EASY-GLIDE-CLIP-P
Plastic cord retainer clip for Easy-Glide Headrail Systems used on cellular honeycomb shades. Also used with workroom clutches on roman and woven wood shades.
Attaches 0.9mm lift cord to the internal rod on continuous cord loop systems designed by Rollease.
White plastic.
Sold individually.
Manufacturer part # RW21 & CSCC.
| | |
| --- | --- |
| Product ID | 5001 |
| SKU | EASY-GLIDE-CLIP-P |
| Color | White |
| Sold By | Piece |
| Material | Plastic |
| What's Included | One clip. |
| Blind Type | Cellular / Honeycomb / Pleated Shade |
| Brand | Used by Multiple Brands |
| Product Line | Used by Multiple Product Lines |
| Country of Manufacture | United States |
| Weight (Pounds) | 0.0100 |
| Processing Time | 1 Business Day |
| Shipping Origin | Colorado Springs, CO |
| Eligible for Free Shipping on Orders Over $100 | Yes |
| Warranty Information | 90 Days |
| Eligible for a Return | Yes |
Window coverings that operate with continuous cord or bead chain loops are a strangulation hazard to kids.
Limiting access to the cord or bead chain loop is a simple way to make these window covering safer for kids.
Free hanging loops should be attached to the wall or floor using ANSI/WCMA compliant Tension Devices.
If your loop already uses a tension device make sure that it is installed so that there is tension on the loop.
Make sure that tension devices are installed securely to the wall or floor using the appropriate fasteners and anchors.
For window coverings that use a size #10 bead chain you can replace your bead chain loop with a rigid bead chain restraining device.
It is safest to replace corded window coverings with cordless window coverings with inaccessible cords (look for "Best for Kids" certification label), or remove corded window coverings.
Move all cribs, beds, furniture, and toys away from corded window coverings, preferably to another wall. Children can climb furniture to reach cords.
WARNING: