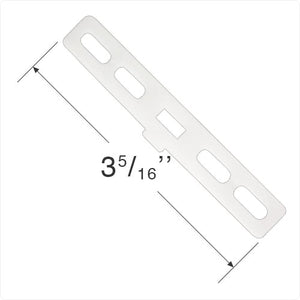 Vane Hanger for Vertical Blinds with Fabric Vanes
Product ID: 5740 SKU: VANE-FABRIC-HANGER
This vane hanger slides into an open pocket sewn at the top of fabric vertical blind vanes and slats. Then, it connects to the carrier clip that the vane hangs from. 
The small tab at the top of the hanger helps keep the hanger centered in the vane and allows for easier installation of the hanger into the carrier clip.
Made from UV stable plastic. Translucent white color.

Sold individually.
Manufacturer part # VP20.
| | |
| --- | --- |
| Product ID | 5740 |
| SKU | VANE-FABRIC-HANGER |
| Color | Translucent White |
| Sold By | Piece |
| Material | Plastic |
| What's Included | One fabric vertical vane hanger. |
| Slat Material | Fabric |
| Blind Type | Vertical Blind |
| Brand | Used by Multiple Brands |
| Product Line | Used by Multiple Product Lines |
| Country of Manufacture | China |
| Weight (Pounds) | 0.0100 |
| Processing Time | 1 Business Day |
| Shipping Origin | Colorado Springs, CO |
| Eligible for Free Shipping on Orders Over $100 | Yes |
| Warranty Information | 90 Days |
| Eligible for a Return | Yes |
WARNING: